about us
Real Estate Media is family owned and operated. We started in 1996 with one employee and 300 sqft of warehouse and has grown into a successful company of 9 employees and 5, 000 sqft of office/warehouse. In the beginning we had three simple goals:
1. Provide a company that our customers enjoyed doing business with
2. Provide good jobs for good people
3. To dominate the market with an unrelenting commitment to service and value that benefits our customers.

Real Estate Media has only one speciality: We manufacture and install any sign needed to market a commercial property throughout DFW, Texas and surrounding states. We are proud to say that 100% of our signs are made and installed in-house by our team of 9 dedicated employees to ensure strict quality control and accountability. Our expertise is readily available to help your firm efficiently market your property. Please contact us for a quote.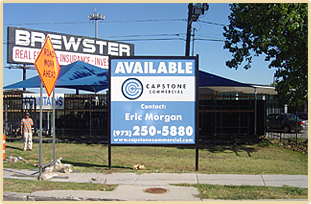 Real Estate Media
3235 Skylane Dr. #123
Carrollton, Texas 75006

Cell: (972) 567-0044
E-mail: Brian@remsigns.com