faq
Real Estate Media knows there are difficult decisions when trying to determine which service will best suit your needs. Here we offer answers to our most frequently asked questions to assist you in your choice. These are also questions that you should ask your current or prospective sign vendor.

Q: How much, if any, insurance do you carry?
A: We carry $2 million general liability, $1 million automobile, $3 million umbrella and workers comp. coverage.
Food for thought: Your sign vendor drives the roads everyday and will install signs on your client's properties, on your behalf . Shouldn't they carry adequate insurance to cover themselves and you?
Q: Do you charge trip charges?
A: No, not within our service area of the greater DFW Metroplex.

Q: Who do I contact if I have a problem?
A: Brian Broussard, the owner and president, is available 24/7/365
for problems or questions. He can be reached at (972) 567-0044 or by e-mail.

Q: Do you pull permits for your clients?
A: Yes, we do all of the legwork to pull permits, anytime they are required.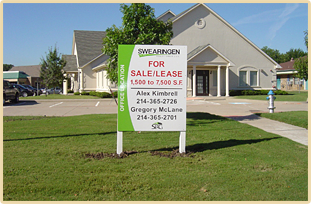 Q: Do you use subcontractors for your work?
A: Never, 100% of our signs are made and installed by full time, in-house employees to ensure maximum quality and total accountability.

Q: How do your prices compare to your competitors?
A: We are lower most of the time. Being that commercial real estate signs are all the we do, we are able to buy in bulk. In most cases, our bulk purchases and ability to control costs allows us to pass significant savings onto our customers. Our pricing structure also allows us to carry proper insurance, pay fair wages to our employees and earn an honest living.

Q: Will you store and reuse our signs, if possible?
A: Yes and there is no charge for storage.

Q: Do you charge for job-site surveys?
A: No.

Q: Do you charge extra for rush orders?
A: No, if we have the materials or can get our hands on them, we are happy to help our customer meet a tight deadline, at no additional cost.

Q: Do you provide pictures of completed work?
A: Yes, pictures of every job completed will be e-mailed directly to the customer.

If you require any additional information, feel free to give us a call; we're always happy to hear from our customers.

Cell: (972) 567-0044
E-mail: Brian@remsigns.com